4th International Workshop on New Approaches for
Multidimensional Signal Processing
NAMSP 2023
Technical University of Sofia, Sofia, Bulgaria
July 06-08, 2023
---
Venue of the Workshop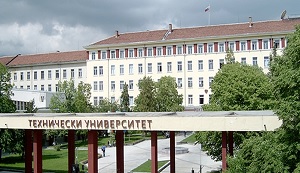 Technical University of Sofia was founded in 1945 and today is established as the leading center within the technical higher education in Republic of Bulgaria. It has 14 faculties and 3 departments. More than 10 000 students are getting their training here for bachelor, master and doctoral degrees. Co-operation with universities from Germany, France, and the UK allow some of the students to get dual diplomas. Substantial theortical and practical research is also conducted in TU-Sofia. Close collaboration with companies like Siemens, Ericsson, Microsoft, Daimler/Chrysler and others support the position of the university at the cutting edge of modern technology.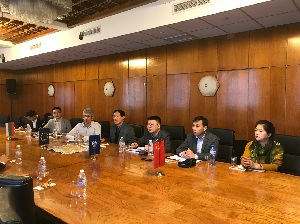 The Technical University of Sofia has active long-term cooperation with over 111 higher educational establishments in Europe, Asia, North America and Africa. The University is a member of prestigious European and world organizations, participates in a number of projects under programmes of the European Union, UNESCO and NATO. Under the Socrates/Erasmus programme more than € 2 million were utilised for the purposes of academic exchange and оver 250 agreements with partner universities from EU member states were signed. Additional opportunities for exchange of students and lecturers have been ensured through the Komensky, Socrates, ARION, Leonardo da Vinci, CEEPUS, Grundvig and other programmes.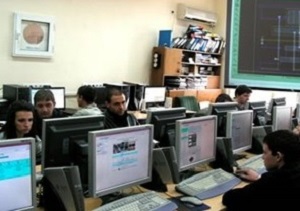 The following programs are offered at TU-Sofia - full-time BEng course in 4 years; full-time MEng course in 1.5 years; full-time Ph.D. degree course in 3 years; part-time Ph.D. degree course in 4 years; Post-graduate training in 2 years. Also professional bachelor - in 3 years (6 semesters) and master in 4 years (8 semesters) along with 3 to 4 years of PhD studies could be undertaken. The University propose a number of courses in German, English or French.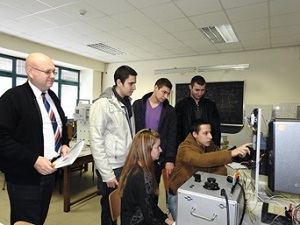 The accredited professional fields in TU-Sofia include Energetics; Electrical engineering, electronics and automatics; Transport, navigation and aviation; Communication and computer engineering; Mechanical engineering; Administration and management; Informatics and computer science; Mathematics; Pedagogy; Materials and material science; Chemical technologies; General engineering.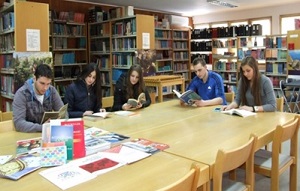 Graduate and post-graduate education is part of the Technical University's strategy to offer life-long opportunities for further career development. Presently twenty Qualification and Post-graduate schools offer training courses in different areas, such as the schools on Innovations and Engineering, Expert Systems and Artificial Intelligence, Automobile Transportation, Rail Transportation, Robotics, Ergonomics and Design, Higher School of Computer Systems and Technologies, Higher School of Automated Design in Electronics and Micro-Electronics, Higher School of Metrology and Metrological Security, Higher School of German Engineering and Business Training, Higher School of Aviation Technologies.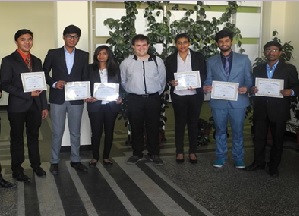 The Overseas Students Department is an independent administrative unit. Thousands of overseas students from Europe, Asia, Africa, North and Latin America have been trained and received their Master or Bachelor degree at the Technical University of Sofia. Hundreds have successfully defended their doctoral dissertations. The students hostels of TUS are located close to the main buildings of the University. They provide accommodation to over 6,000 students and about 1,000 student families - practically to all non-Sofia residents. The campus is situated at the so called Students Town - a 25-30 minutes drive to the center of the city.
The Career and Alumni Centre at TUS was established at the beginning of 2006 with the main aim to bridge the communication gap between business, academic community and students as well as to offer high quality services for the career development of students. The number of Bulgarian and international companies, leaders in the respective professional spheres, who contact the Centre, has constantly been increasing.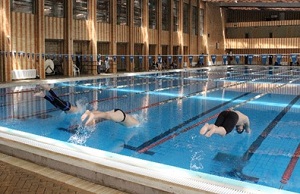 TU-Sofia has rich experience in sports activities during the years with its football, basketball, volleyball, tennis, athletics and other teams winning prestigious tournaments. Students and staff could use wide variety of sports facilities, including swimming pool with olympic size, gyms, football fields, tennis courts, and multifunctional halls. Training and medical support has been provided for all to gain the maximum benefit of practicing sports.